For some of us the kitchen is an unknown territory, but for some of us it could be our kingdom in which we rule. Having the best equipment is a must, that's why with these stylish oven mitts and pot holders you could be assured that you have simply the best.
This is not just an oven mitt – it fits either hand, and the neoprene protects your arms and hands from hot surfaces. It is heat resistant up to 500 degrees Fahrenheit; for left and right handed use. The added bonus – Its sleek design and colorful patterns make this item a must have for your kitchen. With the vibrant pot holder, you can have a lively kitchen, where it's fun and safe to cook. With these two cool cooking tools, you could definitely take the heat…
Even if you're not a chef, a well equipped kitchen could inspire you to cook your best while you're there. There's nothing like a tasteful design combined with vibrant colors to have our spirits in the right mood and bring out the best from us.
This wonderful set of oven mitts and pot holders, from Built, does not only offer the best quality, but also the best designed – creating a great lively ambiance in the kitchen space, helping us get into the right mood and cook with love and from our hearts. This is the coolest gift you could bring to anyone you know who has the "kitchen fever" – it is their kitchen, and they should rule with the right tools.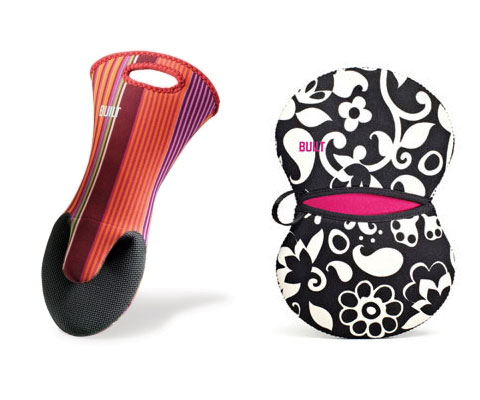 Buy This Item