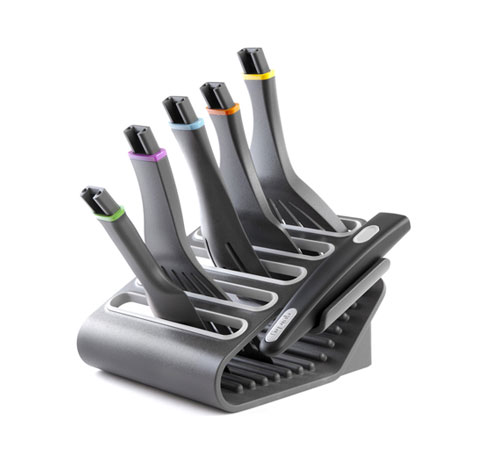 The Click n Cook unit is a very useful system for organizing and using your kitchen utensils. In general my kitchen is not cluttered, and when I cook I like to keep my work area clean and organized. Because I cook a lot, I prefer not to keep my cooking utensils in a drawer. My experience is that this drawer very quickly becomes a mess, I usually can't find the tool I'm looking for and then I either empty the drawer onto the counter (by this time I'm really frustrated) or improvise with whichever tool I manage to have on hand.
Of course the tool-drawer saga doesn't end here because then I go out and buy a new utensil and the next time I empty the drawer I find out I have six of it. Great… So I have devised a system where I keep my spatulas organized in jars on my counter, divided by their use and near at hand. It solves the problem of easily finding the right one but it means that I have to compromise my work space.
The Click n Cook is a modular system that includes one spatula handle and five alternating spatula "heads". They all sit in a single base so the unit keeps the spatulas accessible but frees counter space, immediately making it a favorite of mine.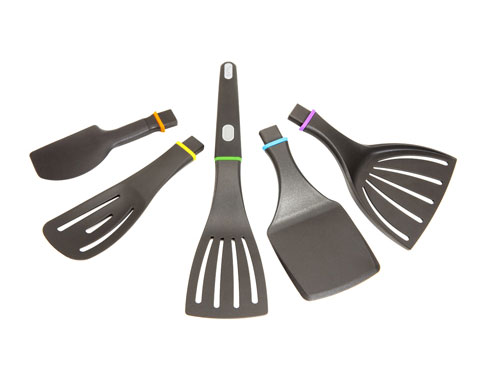 Each of the spatula heads sits in a predetermined slot in the base. They attach to the handle very easily and lock into place. You can even do this with the handle still sitting in the base. When you need to use a different tool, you release the attachment with a simple click of a button and connect the handle to the new one.
The set provides a nice combination of spatulas, flexible mixer and slotted spoon so it's very versatile. The spatulas are made of food-safe plastic which makes them safe to use on non-stick surfaces and also 100% dishwasher safe and the base unit itself opens for easy cleaning. So if you're like me and you like to cook in an easy to use organized kitchen, the Click n Cook is the perfect cooking tool for your kitchen space.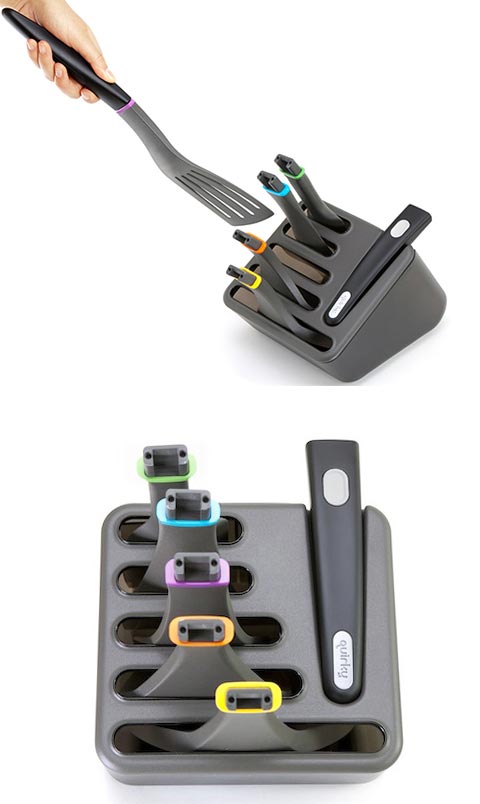 Buy This Item