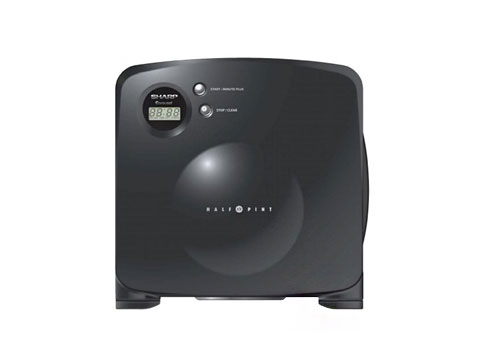 The reality of our current lives is we have to make the most with very little space. That means, we have to be creative. This compact Half Pint Microwave Oven is the state of the art creativity put into action. It's actually a wonderful solution for truck drivers, families traveling around in a caravan or people with extremely small kitchen space.
The Half Pint is compact enough to fit just about anywhere. Its small 14-3/8″ x 14-1/4″ footprint lets it fit where no other microwave oven can. Yet its 10-3/4″ carousel turntable fits a full size dinner plate, so there is no compromising on functionality. Automatic Popcorn, Cook, Reheat and Defrost settings helps to achieve great results. It's a small size oven with a full size quality.
For many people traveling light is not just a saying it is an actual need. They are on the constant hunt after the compact version of everything as they need to deal with a limited space. For them, bigger is not better. This small microwave oven seems to be developed especially for these people as it addresses the core problem – size. The outstanding result, however, is that it doesn't lose quality at all. So, whether you're traveling with your motorhome, or you're a truck driver or living as a student in a tiny little apartment and need to save any bit of space – this is exactly what you need. A powerful piece to keep your meals hot and your mind at ease.
Buy This Item