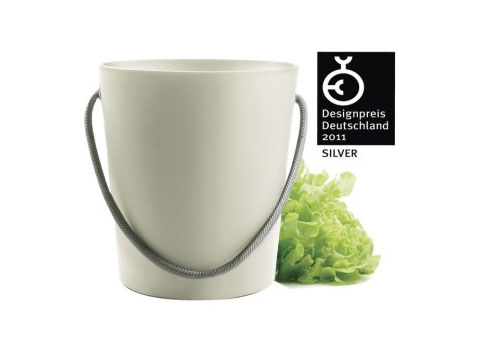 Making a salad should be easy and fun. With the Salad Spinner, from Eva Solo, it is quick too. The days of rinsing fresh leaves of lettuce, leaving them out to dry on a kitchen towel are over. The functional salad spinner enables you to quickly and easily clean, dry and prepare lettuce, retaining the water in the bucket before pouring it away. The salad spinner is ingeniously designed and guarantees fresh and beautifully rinsed lettuce for your salads.
A salad needs greens. The greens are the ones that bring it to life and give it the leafy, fresh effect. The greens, however, need special care. That's why some of us get discouraged by the thought of making a salad as it seems like it is just too much work.
Thank God for this smart and stylish Salad Spinner. Now we have no excuse, and the great part is we don't need one, too. It is made of TPE rubber which is approved for foods and features a stainless steel base and a NEWlon string handle. It is also dishwasher-proof.