Murphy Law number one: whenever you get the craving for something, it won't be around. Murphy Law number two: most times you won't be able to do anything about that. The only law the Zoku Quick Pop Maker has: you can always do something about that craving. This is the coolest thing you'll see, literally.
You can create your own customized frozen pops, including cream-filled varieties, as quick as 7 minutes! To enjoy Quick Pops at a moment's notice, simply store the compact base in your freezer. The kit includes six durable, reusable plastic pop sticks that have unique ridged designs that allow pops to adhere securely, with special drip guards for tidy eating. A specially designed tool helps to quickly release the frozen treats from their molds. The unit can make up to 9 pops before refreezing the unit again. 7 minutes, that's all it takes…
Imagine yourself, a hot summer day, you've used all the ice in the freezer, it's so darn hot you don't want to get out of the house and all you can think about is a nice, cool, refreshing pop. There used to be days that all you had to do is eat your heart out, finally, these days are over.
The Zoku Quick Pop Maker will have you enjoying your home-made pop in no time. It makes up to nine 2 1/4″ x 3 1/2″ pops (three 2-oz. pops at a time) before refreezing is required. The unit includes base, remover tool, six reusable pop sticks and six reusable drip guards. This is an excellent gadget for the kids, allowing them to make their own pops and for you to enjoy their mess-free eating.
Get the whole package, and so much more!
Master the art with the Quick Pops recipe book, that includes over 40 quick and delicious recipes, pop-making techniques, decorating ideas, and tips. The collection ranges from nostalgic favorites like Neapolitan and Mint Chip to trendy flavors like Pink Mojito and Chai. When you're hot, better keep yourself cool.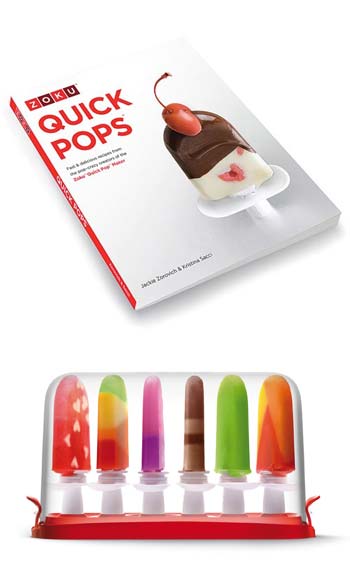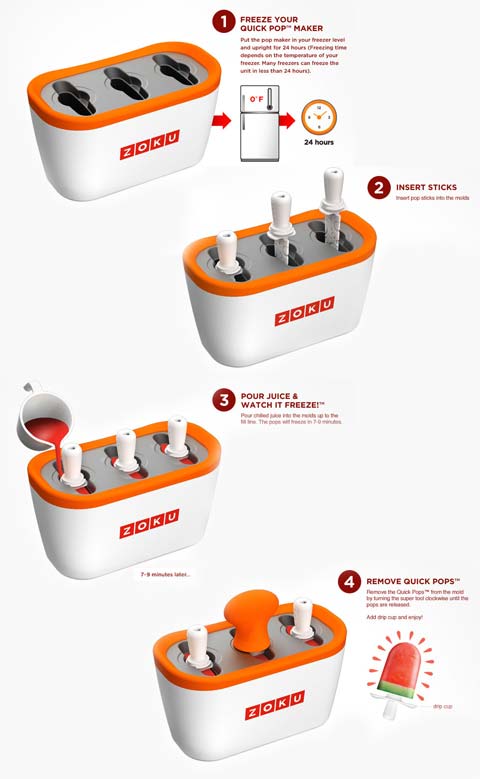 Buy This Item