Watching an experienced chef chopping vegetables on a board is a real treat – they're extremely fast and precise. I would love to have that ability, but I care too much about my fingers to give it a try. I present you the Colori Ulu from Kuhn Rikon – a unique herb and vegetable Knife that will help you chop veggies and herbs like a super-chef.
This is a modern version of the traditional Eskimo knife. The ergonomic handle makes chopping and mincing easy and increases dexterity and leverage whilst the rounded blade allows you to roll over herbs, vegetables and garlic with ease.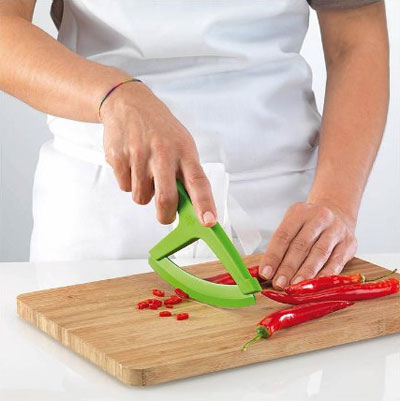 Usually, when I'm cooking the chopping bit takes the longest, however with this knife cooking time is fun. Most of us don't really know how to handle master chef's knives. They are usually very expensive, and it just seems like it's a bit of a waste to spend so much money for a cooking tool that we'll be reluctant to use.
With the Colori Ulu Knife this problem doesn't exist. This is a ready-to-go-knife. The blade is made from high carbon Japanese steel and has a non-stick coating. The knife comes complete with a safety sheath to help keep the blade sharp. Come on, show us what you're made of – start chopping.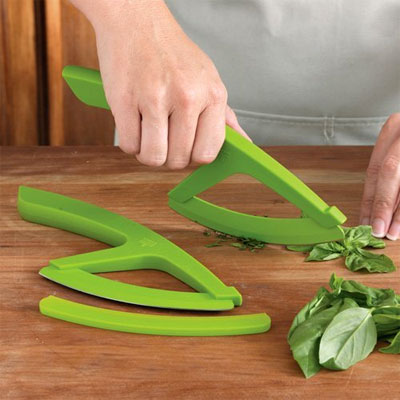 Buy This Item