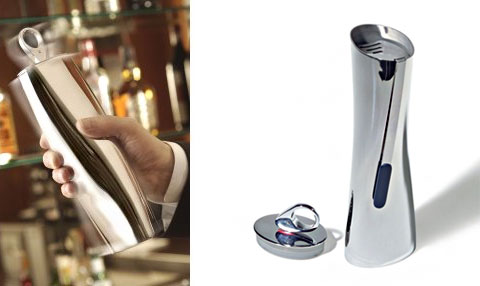 One of the things I like to do when I'm having a party in my house is to brag about my oh-so-mediocre bar skills I've picked up over the years. Most of the time the show runs smoothly and I get my "cheers", but these days all my guests just want to see my new Chiringuito Cocktail Shaker… and who can blame them?
This stylish cocktail shaker, designed by the fabulous Ron Arad for Alessi, is a unique piece of equipment that will upgrade your bar both functionally and add an elegant touch. It's also really easy to use – simply pour the ingredients, seal it with the unique can-like cap and start shaking.
Thanks to its unique curvy design the Chiringuito offers a good , strong grip – perfect for those who are always afraid their cocktail shaker will slip from their hands and spill liquids all over the guests.
This cocktail shaker is made from stainless-steel and it's the perfect choice for those who want a good, strong and high lifespan tool for their bar, and because it's completely dishwasher safe you don't need to worry who's going to clean it afterwards. So if you're looking for a present for a new homeowner, young couple, business colleague or even for yourself this is one of the best gifts that anyone can get. All is left to say is "Bottoms up!"
Size: 3" x 3" x 9.8H" and 18.5 ounce fluid capacity.
Buy This Item