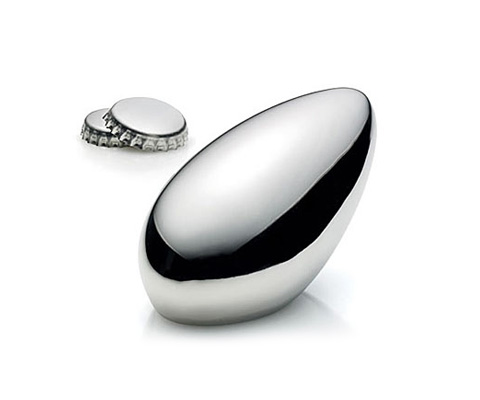 Have you ever tried opening a bottle with an old fashion opener? I'm sure most of us had that experience so we know most bottle openers don't always fit every hand and sometimes it takes more than one try to open the bottle, not to mention the lack of visual design most openers suffer from.
Check out the beautiful Nuance Bottle Opener which combines all we need in one piece of art. This unique bottle opener is shaped like a drop of liquid metal – an unusual design that provides both style and a good grip.
The ergonomic shape fits nicely in your hand and makes it even easier to open bottles. You probably look at it and say: "OK, but what about the weight? Its solid metal…" well you don't need to worry at all, thanks to a hollow bottom it is still one of the lightest bottle openers out there – weighing only 1 pound!
The Nuance is made from stainless-steel with a lacquer finish on the inside so it's perfectly safe for hand wash after you use it. With a high-quality design and function this bottle opener is perfect for home or even business use such as restaurants. So for those who want a sleek, unusual and sophisticated bottle opener I recommend this perfect tool – just think of your dinner party guests wrecking their brain trying to figure out what this shiny item is for…
Buy This Item