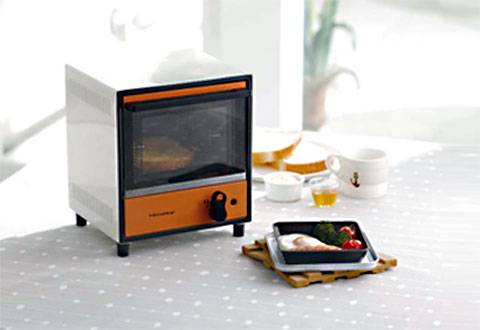 People who live in small apartments usually look for multifunctional pieces of furniture and space saving appliances. Think about places like Tokyo or Amsterdam where living spaces are quite compact, sometimes even tiny.
Limited living spaces require small appliances, especially when your kitchen counter is concerned. Which brings us to the Solo Oven – a cool looking toaster oven, from Japanese design company, Recolte – definitely fits the bill.
First of all, I love the minimalist design of this toaster with its retro chic and perfectly-balanced square shape. Available in three great colors: Orange, White, and Stone Gray, it also comes with a grill tray and plate, a cute little timer, and is easy to clean – perfect to make a toast as well as grill cooking.
By the way, this small oven would probably be a great accessory for a travel trailer or motorhome. Size: 21.2 (W) × 22.0 (D) × 24.4 (H) cm; weight: 2.1kg.