Playing around with design can sometimes bring out the most creative of combinations. For example, when I think about a glass of nice Bordeaux, I find myself daydreaming about soft lighting and a relaxing ambiance… and there you have it, all combined in one beautiful product by The Netherlands-based design studio called Oooms.
What started as an assignment at The Design Academy, became a unique pendant lamp shaped like a wineglass. First, it serves as a lamp, but when the lamp is burned out (after approx. 20.000 hours), the glass can start its second life as a wineglass. How lovely, and Eco-friendly too.
Meet The Designer


Guido Ooms / OOOMS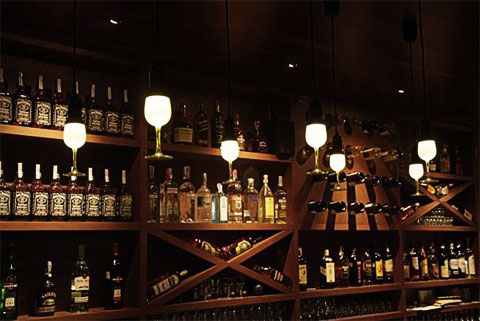 What inspired you to get involved in product design?
I have always been creative, making things from scrap, building ramps and halfpipes, before I started studying. My first study was architecture, but it wasn't my thing, too technical, and left within a year. After this, I went to The Design Academy Eindhoven, where the focus is much more on the creative and conceptual part of design. This was a tip from a woman's daughter who was studying at the academy. At first I thought it was something like an inventor's school, I didn't know design was something you could study. After my studies I immediately started my own design company OOOMS, but also still had some other jobs to get round. After a few years, my girlfriend Karin joined me and thats when things really started going well. We are really a team, with each our own qualities.
Describe your style and approach to design.
We do what we like to do. At the moment this is called "design", but what its called doesn't really matter to us. Our focus constantly changes a bit, because we change as well. Most of the products we designed will (hopefully) make you smile. We don't aim at heavy world changing ideas or concepts, But like to look for the smaller things, that are often taken for granted.
We simply love the Glassbulb Lamp. How did you come up with this concept? (Describe your creative process, coming up with your design, choosing materials, etc.)
This is a concept which started with an idea for an assignment at The Design Academy, when I was still studying. The assignment was to come up with a design that has 2 lives. I thought it would be interesting to see if I could design something of which the second life would be more emotionally valuable. So at first the wineglass lamp is a lamp, but when the lamp is burned out, the glass part could start its life as a wineglass. After my study we took this design in production, but did change a few things. For example the lightbulb electronics where replaced by LED's which last a lot longer.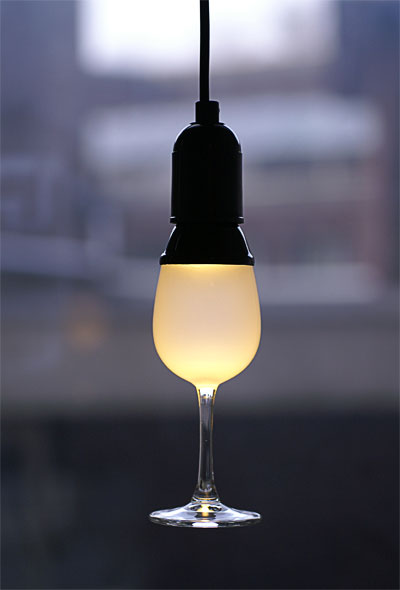 What is your dream project?
To be invited by a school or company and work abroad for a couple of weeks or months, preferably somewhere exotic and warm. We have been invited to conduct workshops at design schools in Mexico and Singapore which was an awesome experience. Just a few weeks back we went to Jakarta for two weeks to help setting up a design workshop at an shelter for street children. These are the projects we really love to do and would like to expand.
Who is your favorite designer?
We love design and what it can do for people, but we don't have a favorite designer. If you ask what inspires us, its mostly influences from outside the design community. TED talks is a brilliant source of inspiration for example.
What changes would you like to see in the design community in the future?
I wish more people would respect our intellectual property and that it will be possible to do something against offenders. Right now for most design companies its next to impossible to do something about companies that shamelessly copy your designs.
What's new at Oooms design studio?
That are the products we are designing for the Jakarta project. The challenge for us is to design high-end interior products by using mostly scrap material from Jakarta. These products will be produced by the streetchildren and then be sold by another party. The benefits are all for the street children, so the shelter won't be solely dependable on sponsors. Besides this the children learn about entrepreneurship and working with different workshop tools. This is an exiting project and we will go back to Jakarta in January to start to teach the children how to make these products.