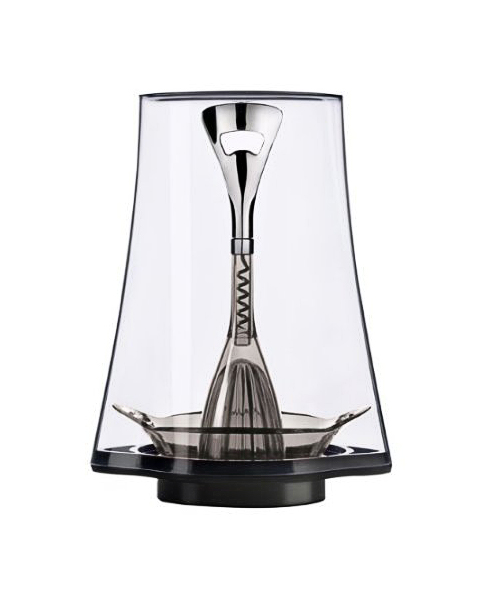 Here is a device whose name should be written in the dictionary as a synonym for elegant efficiency and practicality. Two in one or three in one devices, that's something we are all familiar with. But how about eight in one? Yes, correct amount read. Eight, meaning: an ice bucket, a wine cooler, a bottle opener, a corkscrew, a measuring cup, a fruit squeezer, a salt rimmer and a coaster. Eight device in one, which saves space while offering versatility and quality in the preparation of your favorite drinks. A real bar butler would I dare to say!
What attracts me is the fact the Bartule has not sacrificed elegance and quality in their effort to create a multi wine & bar tool, which is often the case.
This pretty and handy tool is offered in six colors such as green, red, blue and yellow, and the more monochromatic or achromatic ones like the dark grey one – or else "smoke" – and the clear one. These last two ones are my personal choice and the one I'd choose to offer as a present or even bring home to add to our little bar. Concerning its materials, a combination of stainless steel – for the bottle opener and the corkscrew, recycled material – for the citrus juicer and poly carbonate have been used for the ice bucket.
Buy This Item