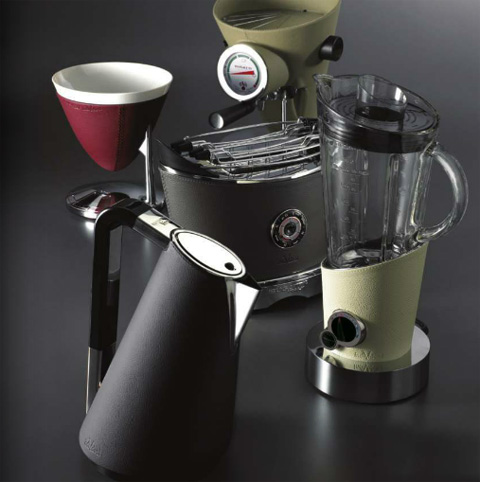 An Italian feeling in design calls for high quality and luxury, wouldn't you agree? Bugatti's Individual line of kitchen appliances has been developed by talented Italian craftsmen, just for this purpose: to satisfy the desire of those who want a product with special features, that distinguish it and make it unique. A range of hand finished products created by combining different colors and materials.
Among lines such as the Sparkle of crystals, Newspaper, 24 carat gold plated, Arabesque and others, my heart skipped a bit at the sight of the simplest of them. The Denim and Leather series. Minimal, sleek, super elegant, making a clear statement, while doing so in a polite, discrete manner. The two lines feature some products in common such as an espresso machine, a scale and a kettle, a blender and a toaster. The denim line features additionally a juicer while the leather line a fruit bowl and two lines of cutlery under the names of Duetto and Porto fino respectively.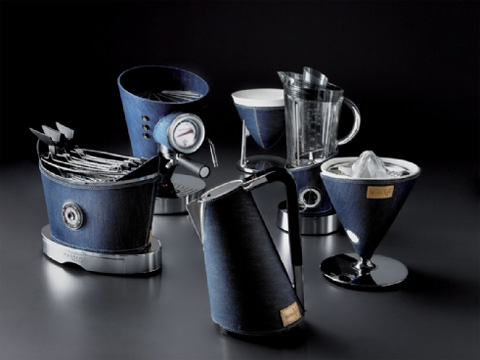 From the Denim line, my absolute favorite is Vera, a design by Andreas Seegatz. All covered in jeans, brilliantly exposes her beautiful parts such as her handle. She is the line's intelligent and elegant cone shaped kettle with a sophisticated water temperature regulation system and a timer that informs you when to have a break. What more to ask? I just love how the modern and casual look of a denim fabric, beautifully and playfully emphasizes its perfect, sleek lines.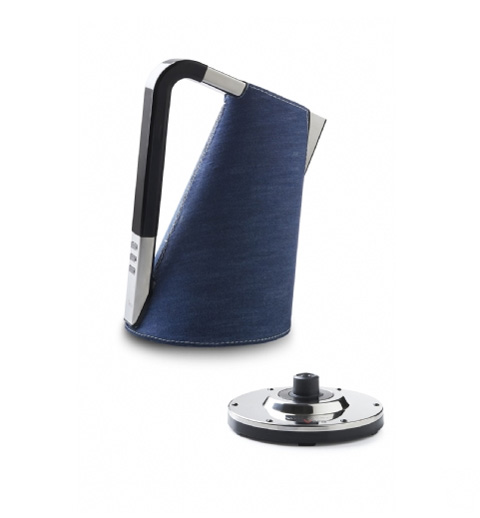 As for the leather line, it is going to satisfy the requirements of even the most selective of gentlemen and generally minimal lovers out there. Black and leather. Hot and sexy. Serious and impressive at the same time.
An absolute favorite of the line is Ninnananna, the double wall fruit bowl made of stainless steel, dressed in beautiful black leather, also designed by Andreas Seegatz. Last but not least Duetto cutlery line, designed by Nick Murno is a statement piece, combining exquisite style with a sensational experience. Can you just imagine how great it would be to hold in your hands not a cold piece of metal, but stainless steel covered in soft leather?