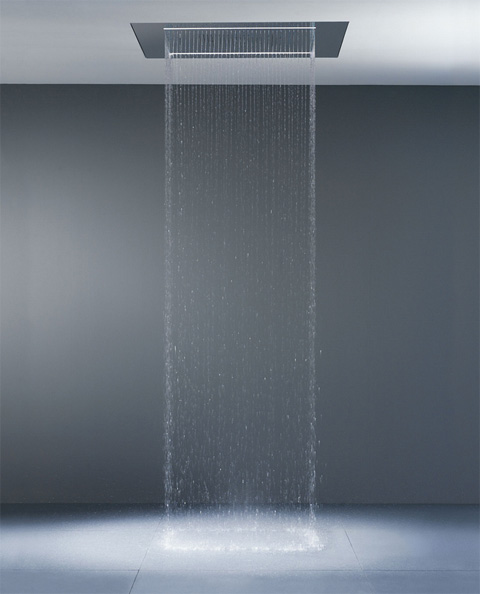 Dornbracht, a market leader for high-quality bathroom fittings and accessories. Their product range also includes fittings and accessories for kitchens, as well as Dornbracht Interiors, a series of exclusive designer furniture and accessories. Their philosophy is clear, pure, flowing water.
RainSky is their new rain forest shower head that will transform the way you shower into a completely new experience. It looks heavenly and I'm pretty sure it also feels like it. The product concept is based on warm summer rain, hot tropical rain, cool autumnal rain. Rain in all its forms. As Rene Pier says: "With RainSky we have enticed the clouds from the sky into our homes".
This rain forest shower head is definitely a part of the new design trend, which is all about the fusion of nature and technology. It comes in various sizes, from gentle drizzle to tropical downpour.
As described in their website:
"Showering with Rain Sky is showering with all the senses. For the first time, water, mist, light and fragrance complement each other in scenarios which relate to the moods in nature. Everything happens simply, just enjoy it and don't think of anything. That's all taken care of by the electronic control panel, which automatically evokes the rain curtain, head and body spray, mist projectors, colored lights and fragrances according to the chosen sequence. Anyone standing behind the bright rain curtain during the scenarios will soon feel the effect a unique feeling of well-being."