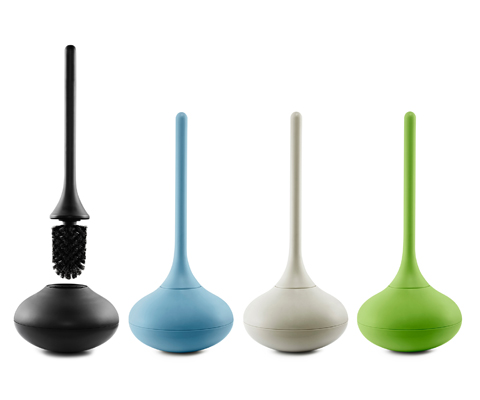 Well, sometimes the good mood and vibrant ambiance should exist in your bathroom too. And the new Ballo Toilet Brush, from Normann Copenhagen, will make sure of all that. Ballo is different – an amusing toilet brush, that wobbles back and forth, wishing you a colorful welcome to your bathroom; hence the name Ballo, which means 'dance' in Italian. Well, it's time to twist n' shake something…
There is a saying that God is in the small details. This is so very true. It is the little things that make all the difference even when we don't notice.
It's hard to pin-point a specific item, but you have the feeling that the overall picture is a vibrant, happy one, which makes the entire ambiance inviting and welcoming. And, yes, even a bathroom should have this kind of ambiance. Ballo, is this type of item, you can't really put your finger on it, but you know that the overall feeling is cheerful. That's the whole idea, isn't it?
Available in Black, Blue, Light Gray and Green.