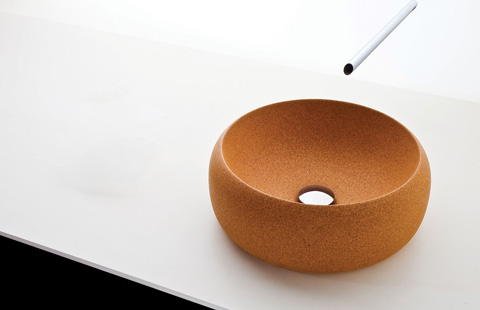 A part of the award-winning collection from Portuguese duo behind Simple Forms Design, the cork washbasin is a functioning sink in a material more usually associated with wine bars and beach huts. The piece nicely sums up the design houses' mission – to revive forgotten materials into pieces that can stand alone in any interior. The cork is given a modern flavor with rubber composite mix and a specialist surface treatment against water and wear.
The squat circular shape with tactile concave sides echoes the natural material of the basin. The pattern, color and physical lightness of the piece also add to the impression of washing your face in a giant acorn cup. The stainless steel plug, however, brings it back to the contemporary world (as does the high tech surface treatment). The designers Alzira Peixoto and Carlos Mendonca have really highlighted the adaptable personality of their country's famous tree bark.
The cork basin is the perfect antidote to bring a natural design injection to over minimalist modern bathrooms, or to blend in more rustic ones. It could also fit perfectly in commercial WCs for bars or cafes with a modern-natural aesthetic. Without any loss of functionality, the use of cork in this way could bring real warmth and focus to a washroom. You can then also pepper the place with the smaller bathroom pieces (conveniently) from Simple Forms, to bring it all together.
Available in Natural Agglomerated Cork or Agglomerated Cork Rubber. Dimensions: 380 x 140 mm.
As nature intended, in the bathroom, obviously.