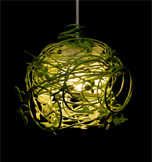 Unique lamp shades are not easy to find. That is if you never heard of Tazana's lamp shades. They are simply beautiful. In fact I couldn't make my mind up on which of the lamps to write about, so keep tuned to my next post on Tazana unique lamp shades.
This post is about the foliage series which are also available with a stand. The inspiration for this unique lamp design is the natural relations of leaves and ever changing seasons.
The lamp shade form is designed from unsystematic modular unit and is adjustable depending on user's imagination in many occasions. So now you can adjust your foliage combination around your bulb and lamp device and enjoy the soft light resembling a light among forest trees. Simply beautiful.
These unique lamp shades seem almost as if a couple of leaves have been tangled accidentally, suspended in mid air, while fireflies are in charge of this enchanting lighting effect.
The foliage design concept has a natural sense combined with applied Thai handicraft, "Technology Meets Handicraft", as Tazana calls it. Tazana was created in 2005 by Mr. Suppapong Sonsang, a renowned designer in Thailand, and Microtek Products Co., Ltd.
This successful collaboration has been achieved by Mr. Suppapong Sonsang's broad experience in designing rubber, ceramic, furniture, lighting and handicraft, while Microtek Products Co., Ltd. specialize in precision plastic injection mold and experiment in new material to create home decorative items and furniture.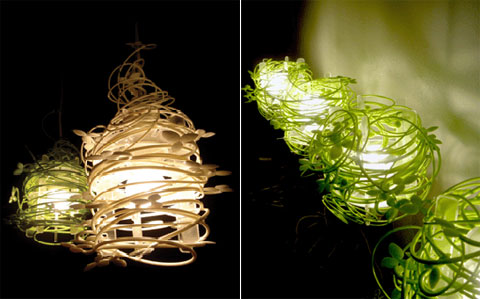 By the way, if you're into unique lamp shades or outdoor solar light fixtures you might also be interested in:
Unique lamp shades Tazana Blossom
Unique lamp shades Tazana Stemcell
Outdoor light fixtures by Foscarini and Oluce
Outdoor solar light – The MagicGlobe Solar Light Sphere
Outdoor solar light – Corona
Unique lamp shades by Sharon Marston