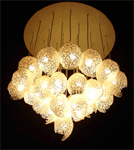 Unique lamp shades are not easy to find. That is why I have decided to post a trilogy about lamp shades by Tazana. They are simply beautiful.
This post is about the Stemcell series from Tazana unique lamp shades. While the inspiration for Tazana's other lamp shades was the natural relations of leaves and ever changing seasons, this time it was the stemcell which has inspired the new series. A stemcell is an infant cell which has potential to change to other organ cell in the human body.

These unique lamp shades modular design can be connected unsystematically by Thai skills in weaving handicraft. Tazana believe that this product has the same characterictics with stemcell in some ways.
The stemcell lamp shades series offer three variations:
The StemcellRose is a floor lamp type and wall lamp. Because of the beauty of the rose, it is excellent for window display, exhibition, party and decorative items in your house.
The StemcellEgg comes from the imagination of broken egg. It can be displayed as a chandelier or a bunch. With the oriental details of the work, it can create a gentle, delicate and warm atmosphere to any place. It is suitable for a variety of places such as large space of exhibition hall, bar, restaurant, shop and home.
The StemcellMoon which is an enlarged stemcell modular unit to create a larger unique form.
Tazana was created in 2005 by Mr. Suppapong Sonsang, a renowned designer in Thailand, and Microtek Products Co., Ltd. This successful collaboration has been achieved by Mr. Suppapong Sonsang's broad experience in designing rubber, ceramic, furniture, lighting and handicraft, while Microtek Products Co., Ltd. specialize in precision plastic injection mold and experiment in new material to create home decorative items and furniture.

By the way, if you're into unique lamp shades or outdoor solar light fixtures you might also be interested in:
Unique lamp shades Tazana Blossom
Unique lamp shades Tazana Foliage
Outdoor light fixtures by Foscarini and Oluce
Outdoor solar light – The MagicGlobe Solar Light Sphere
Outdoor solar light – Corona
Unique lamp shades by Sharon Marston